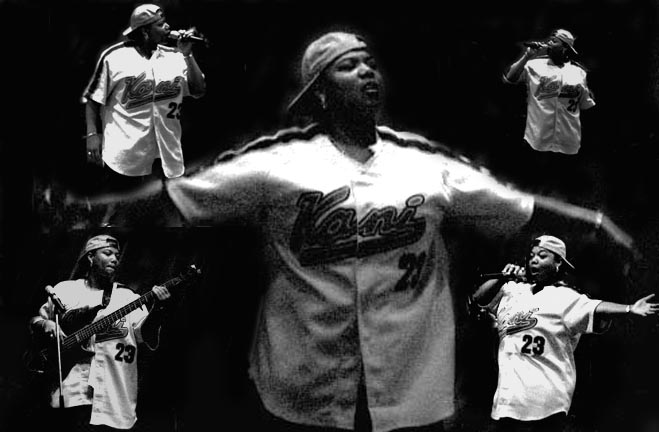 Queen Latifah
Although Queen Latifah was certainly not the first female rapper, she was the first to bring a feminist consciousness to the genre's political agenda with her groundbreaking 1989 debut, All Hail the Queen, and its single "Ladies First." Latifah (an Arabic word translating as "delicate" or "sensitive") was born Dana Owens in Newark, New Jersey and served a stint as a human beatbox in the group Ladies Fresh. She recorded a single, "Wrath of My Madness," in 1988 and later released All Hail the Queen to strongly favorable reviews; the album showcased her versatility on material ranging from soul, dub reggae and dance to straight hip-hop and established a tough, no-nonsense, intelligent persona. Nature of a Sista expanded on that role with some more personal material, but Black Reign became her most popular album, probably boosted by Latifah's increased visibility as a cast member of the Fox sitcom Living Single. The album was dedicated to her late brother, who was killed in a motorcycle accident in 1992, and produced the hit single "U.N.I.T.Y.," which won a Grammy for Best Rap Solo Performance. In addition to Living Single, Latifah has also appeared in the films Jungle Fever, Juice, and House Party 2. She returned to music in 1998 with Order in the Court. ~ Steve Huey, All Music Guide
The Queen is "all that" and even more. Queen Latifah is a Rapper, Entrepreneur, Artist Manager, Record Label CEO, Film Actress and star of her own T.V. show. At 26 years of age, Queen Latifah has already recorded three albums, held roles "Jungle Fever," "Juice," "House Party 2 " and "My Life." Latifah, now, shines in "Set It Off" her latest feature about female bank robbers, co-starring Jada Pinkett, Vivica Fox and Kimberly Elise. On television she has appeared on the sitcom, "Fresh Prince of Bel Air" and now stars in her very own series, "Living Single." Each of her prior LP releases, "All Hail The Queen," and "Nature Of A Sista," have been nominated for a Grammy award. Her first sold over a million copies worldwide.
Her management company, Flavor Unit, represents rap heavyweights Naughty By Nature and OutKast along with Monica, Faith Evans, SWV, Total, Groove Theory, Monifah, Donell Jones and Gina Thompson and has just become a full service record label. And after all that, what's most important to her?...The music.
"Music will always be the closest to my heart," says Latifah, "that's where I started and that's where I learned the most."
The untimely and tragic death of Latifah's brother, Lance, was the painful metamorphosis in her life that enabled her to make Black Reign, her last and most inspired work ever. Black Reign was not only an instrument for her own healing, but it was a chance for her fans, old and new, to get to the soul of a Queen.
Black Reign is undeniably the most extraordinary Queen Latifah album to date. Mixing her love of hip hop and her intense love and talent for singing and melody, it is an album, truly for everyone. But make no mistakes, by being for everyone, it does not make the hip hop aspect any less real or less authentic or the singing any less accomplished. Miraculously, the two facets blend in a way that has not yet been seen. To her, however, it's simple, both aspects are within her. "When I sing something, it's coming from the heart," she says.
Although difficult and courageous to go back into the studio, while mourning her brothers death, Latifah managed to take her grief and turn it into heartfelt, solid music. She explains "I worked on this album like it would be my last. After my brother died, I didn't really want to be out there anymore. I felt like I just wanted to go back to being regular "La" from around-the-way, without all the hoopla. I make music for me. I love it. That's why I do it. This album is my most consistent album. My intention was not to give the record company anything that they could market in the wrong way. No matter what songs they put out, it wouldn't hurt me. That was my mission, to make an album full of singles. I think I did it."
And with that confidence, she entitled the album, Black Reign, which signaled her new strength as well as that which she wants for her community. It's for Black people reigning over their oppressors," she says. "It's also me reigning over certain difficulties in my personal life." Of the eclectic and very musical collection of songs, she says, "It's a growth, not a change in direction. I think it's a little more free...and much better. It's kind of like a year in my life."
Latifah's honey-dipped singing voice is one of Black Reign's most noticeable assets. It is generously sprinkled throughout every chorus, giving each of her adroitly delivered rhymes stronger meaning. Although her impressive singing seems more prevalent on the Black Reign album than ever before, Latifah did sing minimally on both of her prior albums, as well as singing the soundtrack for her hit television show. She says, "People should be used to me singing by now. It's one thing you should know; never expect any one thing from me. Be open-minded when it comes to Latifah."
Open-mindedness is a must. Ready to combat hip hop poseurs who will accuse these melody- filled rhymes of being "R&B," she says, "I don't like my music being categorized. I don't think it's R&B at all. The vibe that I'm catchin' are not that...just because you sing, doesn't make it'R&B.' I just consider it flava, that's all it is. There are some hardcore reflections, if I may say that, and some reggae reflections...but it's mostly vibes. If you ask what kind of hip hop style it is, it's just vibes. Flavor. I'm not following anybody else."
Flavas indeed. Queen Latifah managed to combine several different'reflections' and still come with a consistent, smooth-flowing album. Working with promising new producer S.I.D., on most tracks as well as Naughty By Nature's Kay Gee and the well-experienced, Tony Dofat, Black Reign is consistently smooth and flavorful. From strong party jams to sultry slow jams, the album feels good through and through.
From the hard-edged tracks, "Rough," which features mega-stars, KRS-1, Heavy D and Treach, the self explanatory, "Bring The Flavor," safe sex salute, "Coochie Bang," "Superstar," which speaks of the simple things a Queen looks for in a mate and "No Work," which is a bass heavy Flavor Unit family anthem, to the sultry duet with Tony Rebel, "Weekend Love," to the party jam, "Black Hand Side," to the reflective and emotional, "Winki's Theme," Latifah, shows her extreme versatility remains in tact.
The painful and courageous, "Winki's Theme" is a song beautifully executed for her brother, whose nickname was Winki. Uniquely combining jazz, hip hop and R&R stylings, it could be considered a masterpiece, although it is, she admits, almost too personal for mass consumption. She says of the self-produced coup, "It's the most important song to me because it goes deeper than any other song."
The urban realities of "Just Another Day," strikes a refreshing balance; showing the ironic conflicts of life itself. As she sings a carefree and optimistic chorus, Latifah details the brash landscape that surrounds her. The song is a unique celebration of urban living. She says, "I was feeling good about where I'm from. I love home, (New Jersey, East Orange, Irvington). It's what I identify with. I love being where I'm from, regardless of the sh*t that goes down. I love the whole vibe of it."
U.N.I.T.Y." her ever-so-necessary salute to women, graphically details the disrespect she sees going on between Black men and women. She says she was inspired to write it at a Greek picnic in Philly, where she was incensed by what she saw. "As angry as I get, it all goes back to us being unified," she says. "Brothers need to start looking at us as something that should be cherished and protected and loved."
Queen Latifah's accomplishments to date have the power to drop jaws in awe, but she maintains that she is the same Jersey girl she started out as. She is aware that she has been "blessed with a bunch of talent," and says the secret of her success is simple. "I'm true to myself, and I always try to do the right things. I've always said my prayers and they've been reciprocated."
The ever-wise and precious Queen Latifah has demonstrated her strength in a way that will put her in the history books as being at the forefront of her generation's leading women. Her constant positivity and commitment to excellence and growth make her an example for all people: female, male, black, white, young and old.
Although Black Reign is a masterpiece in and of itself, she admits at moments it can get a little raw. For that, she says sincerely, but never apologetically, "I want people to understand that this album is close to my heart. My brother and I were very close. If you hear a couple of extra "f*cks," a "b*tch" and a "sh*t," you need to understand, I was going through a little something. I'll be all right." Believe her, she will
Currently, Latifah is back in the studio working on her next LP (which is presently untitled). But for those of you who can't wait for something a little newer from the Queen, check out her single, "Elements I'm Among," featured on the Sunset Park soundtrack. Latifah directed the video for the single and, in essence, puts on yet another hat (that of Director).
CONTACT: Queen Latifah, 151 El Camino Drive, Beverly Hills, CA 90212
Living for today will bring about dying for today. You can't just think, 'I'm going to die anyway,' because that's what's stopping us from moving forward. - Queen Latifah, 1996
BIO
Queen Latifah was born Dana Owens in Newark, NJ on March 18, 1970. Latifah is Arabic for delicate and sensitive and picked by her when she was 8. Queen Latifah is probably the most well-known and respected female rapper in the industry with her strong, empowering lyrics and personable style. Latifah demonstrated that black women can be portrayed as intelligent and beautiful instead of being sexual props in her male counterpart's videos.
Queen Latifah's debut LP, All Hail The Queen was released in November, and contained her first hit on R&B radio, "Ladies First" as well as "Dance For Me" and "Wrath Of My Madness." Guests on the LP included De La Soul and Monie Love. As CMJ New Music Report put it, "Male rappers step off, because the Queen has arrived." Critics applauded her message and musical style of rap, R&B, and even reggae.
Similar praise followed her next release, Nature Of A Sista' in September. Q magazine said of the LP, "...her true potential is now being revealed." Latifah had the ability of singing from her heart with the influence of her mind. Latifah later signed with Motown Records after Tommy Boy Records didn't re-sign her contract.
Queen Latifah had her high success with the release of Black Reign in November which included the Top 20 hit "U.N.I.T.Y." The LP gave Latifah more exposure on radio and on video channels. The song "U.N.I.T.Y." epitomized Latifah's strong woman stance and went on to win her a Grammy Award. "Just Another Day..." also became a hit from the LP. Q magazine said of the LP, "...out of the sea of bland and repetitive rap albums currently nailing the coffin shut on the legacy of funk comes a welcome life raft of sanity..." and Entertainment Weekly said, "...she is probably hip hop's most assured and exciting female performer..." Queen Latifah has also found success acting with several movie appearances including Set It Off, House Party 2, My Life, Juice, and Jungle Fever, and a popular TV sitcom Living Single which has been on FOX since 1993. She also has her own management company called Flavor Unit Entertainment (home of Flavor Unit Records) which represents such acts as Naughty By Nature, L.L. Cool J, Monica, and SWV. Much of Latifah's popularity has developed not just from her music or acting, but from her humanity. After experiencing her brother's death in the early 1990s (which inspired much of the determination found on Black Reign) and having been a victim of car-jacking, Latifah has shown how to rise above tragedy with class, direction and empowerment.
1995 Grammy Awards: Best Rap Solo Performance ("U.N.I.T.Y.")
In February, Queen Latifah was arrested for drug and weapons charges after she was stopped for speeding in California and a loaded gun and marijuana were found in the vehicle. Latifah later confessed the incident was unfortunate and reflected a downward spiral resulting from the car-jacking and the continuing feelings of loss over her brother's death. She said of the incident: "I made decisions that I regret, and I took them as learning experiences... I'm human, not perfect, like anybody else." Latifah later entered guilty pleas and was fined for the incident.
Rock 'N Roll Hall Of Fame's 500 Songs That Shaped Rock And Roll includes "Ladies First"
The 1997 Soul Train Lady of Soul Awards honored Queen Latifah with the "Aretha Franklin Award" for "Entertainer of the Year."
Queen Latifah's sitcom Living Single may have been "let go" by the Fox network in '97, but her acting streak got even bigger with a role in the movie Sphere co-starring with Dustin Hoffman, Samuel L. Jackson, and Sharon Stone. Also, The Hollywood Reporter reports that Latifah will be embarking on a talk show host career (most likely syndicated by Warner Brothers) and an autobiography focusing on self-esteem. During the summer, Latifah also played some dates with the Lilith Fair tour.
LPs
All Hail The Queen
Released: November, 1989
includes:
Nature Of A Sista'
Released: September, 1991
includes:
Black Reign
Released: November, 1993
US: Gold
includes: "U.N.I.T.Y." and "Just Another Day"
Order In The Court
Released: June, 1998
includes: "Bananas"
More QUEEN LATIFAH ...
In June, Queen Latifah unleashed her next LP, Order In The Court with the first single, "Bananas." She said to MTV: "A lot of queens came along while I was away from my throne for a moment... and its all good. I don't knock anybody, but I'm holding my spot... The thing about me is that I've never competed with anyone else because I've always done my own thing. So in my mind, I'm not in competition with any other female rappers out there. No other female rapper can make Latifah records, just like I can't make Foxy records, I can't make Kim records, I can't make Missy records. They're individuals and I'm an individual. But this is what I do, I'll assert myself in my own way, and I'll hold my throne like I always do." In September, Queen Latifah talked with CNN: "I've always been a person who cuts my own mold... I don't follow trends... I try to be current but I don't follow what everyone else is doing... Just because some rappers chose to sell the sex - I'm a big woman and I'm not going to embarrass myself by pulling my gut out... I can be sexy and sensual in my own way... besides, I think big chicks rule." Queen Latifah will also becoming a talk show host this fall with Latifah on the FOX network. She was "discovered" by Rosie O'Donnell who recognized Latifah's potential as a talk show host. In November, Queen Latifah could be seen in the film, Living Out Loud, as a jazz singer. The film's soundtrack will also feature 3 jazz standards sung by Latifah: "Lush Life," "Goin' Out Of My Head," and "Be Anything (But Be Mine)." Latifah can also be seen in the TV mini-series Mama Flora's Family (a Roots sequel) on CBS, and will soon be seen in The Bone Collector with Denzel Washington. Queen Latifah was named one of the 'Most Fascinating Women of 1998' by Ladies Home Journal.
Queen Latifah was nominated for 2 NAACP Image Awards for Outstanding Supporting Actress in a Motion Picture (Living Out Loud) and Outstanding Actress in a Television Movie/Mini-Series/Dramatic Special (Mama Flora's Family). Queen Latifah's new talk show was given the go ahead from Warner Brothers to debut on television in the fall. Latifah also released her autobiography, Ladies First: Revelations Of A Strong Woman. Latifah talked with TV Guide in September about her new talk show: "We're going to be sort of Oprah-meets-Rosie-meets-Chris Rock... we'll deal with news events, issues and celebrities just doing their own thing."
In February it was announced that Queen Latifah would join Melissa Etheridge, Garth Brooks, the Pet Shop Boys, k.d. lang, and George Michael to perform April 29th in Washington, DC as part of 'Equality Rocks' - a benefit concert in support of a gay and lesbian human rights campaign (Human Rights Campaign). In March, Queen Latifah demonstrated her vocal range at the Academy Awards during a Best Song melody. In June it was reported by The Hollywood Reporter that an updated version of The Wizard Of Oz is in the works with Latifah as (Glenda the Good Witch).